ITB Therapy℠ With Lioresal® Intrathecal
Intrathecal baclofen (ITB) therapy is a highly effective treatment for severe spasticity, since baclofen is delivered directly to the cerebrospinal fluid (CSF), typically through a programmable pump, allowing for individualized dosing for control of severe spasticity.1
While the use of intrathecal therapy dates back to 1898, it has only recently attained relatively widespread use.1 The rationale for intrathecal delivering therapy for spasticity is that it facilitates drug delivery directly to the sites of action within the CNS. Intrathecal baclofen is the only FDA-approved drug for intrathecal therapy for spasticity (approved in 1992), as it is known to reduce the spinal reflex responses in a dose-dependent manner.1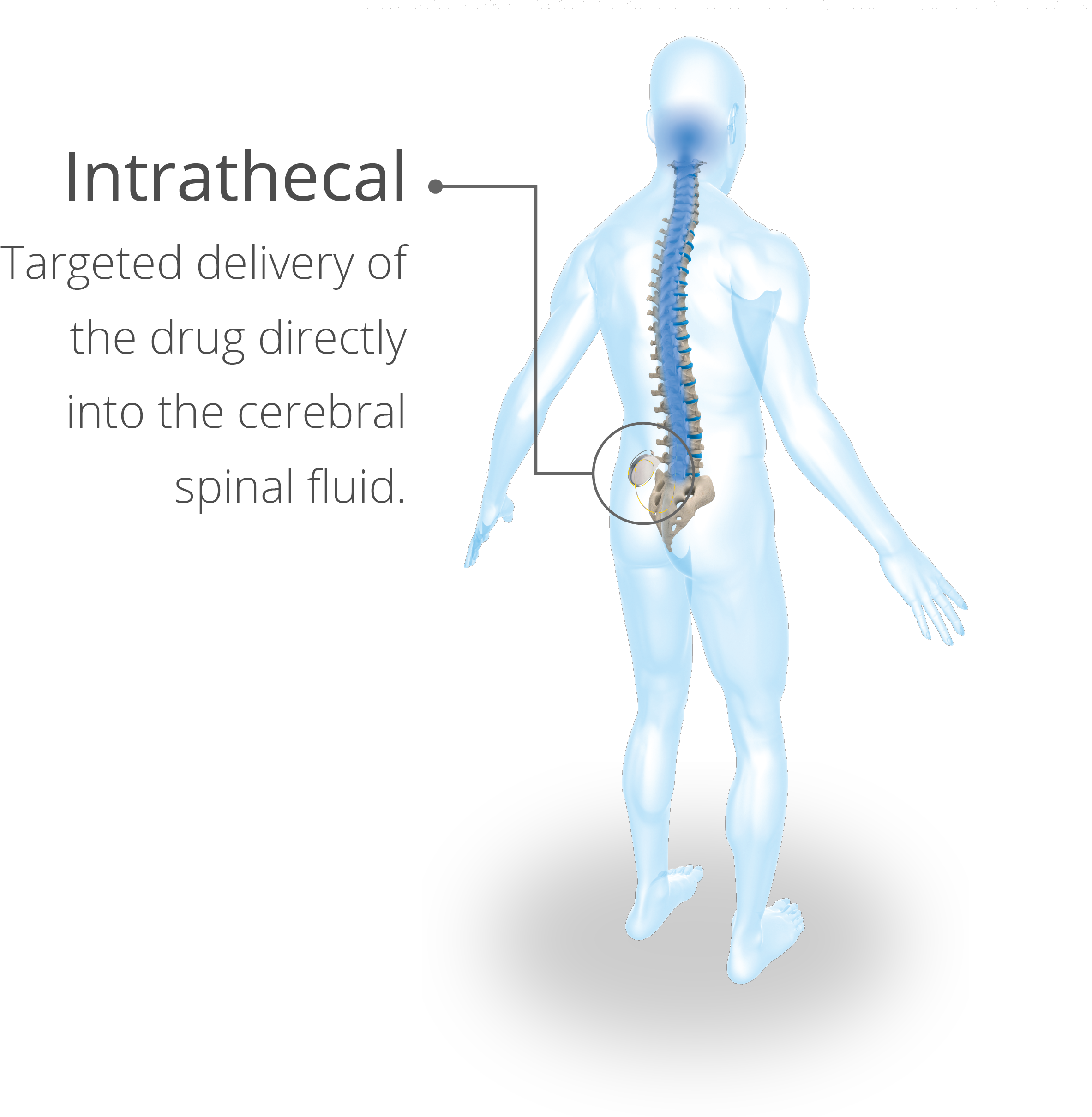 Intrathecal delivery systems are comprised of several key components—mainly an accessible drug reservoir, a method of propelling the drug out of the pump (programmable systems are preferred), a catheter to connect the drug reservoir to the CSF, and an energy source to drive the pump system.1
Lioresal®Intrathecal offers targeted delivery of baclofen for the individualized relief of severe spasticity. When introduced directly into the intrathecal space, Lioresal® Intrathecal permits effective concentration of baclofen to be achieved in the cerebral spinal fluid, with resultant plasma concentrations of 100 times less than those occurring with oral administration.3 Other advantages of ITB therapy for severe spasticity include that it affords potent relief of spastic hypertonia, it is reversible, the rate of dose and administration and dosage are adjustable and programmable, and it can be combined with other modalities of therapy.1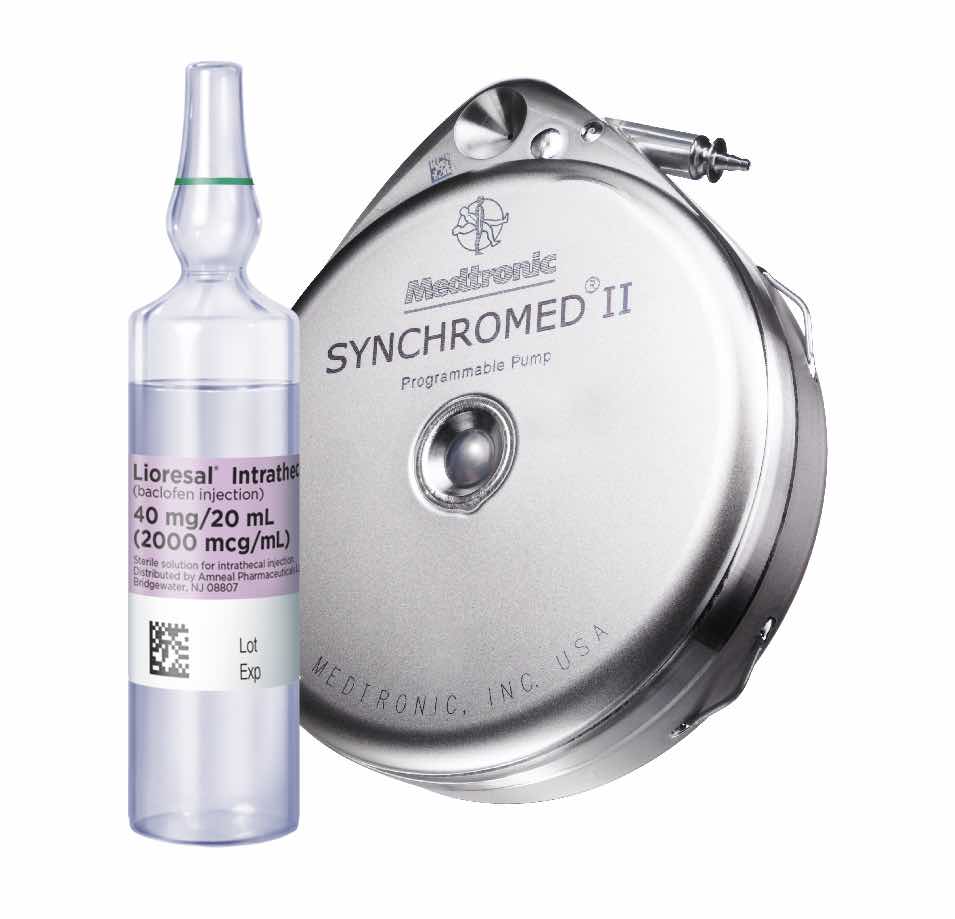 ITB TherapySM with Lioresal® Intrathecal (baclofen injection) is indicated for use in the management of severe spasticity. Patients should first respond to a screening dose of intrathecal baclofen prior to consideration for long term infusion via an implantable pump. For spasticity of spinal cord origin, ITB TherapySM via an implantable infusion system should be reserved for patients unresponsive to oral baclofen or those who experience intolerable CNS side effects at effective doses. Patients with spasticity due to traumatic brain injury should wait at least one year after the injury before consideration of long term intrathecal baclofen therapy.3
Appropriate candidates for ITB therapy include patients who have:1
Spasticity that is poorly controlled despite maximal therapy with other therapy modalities
Spasticity that is poorly controlled because of limited patient tolerance of other therapy modalities
A need for adjustable spasticity reduction, which is afforded by the programmable variable flow pump
Patients who choose ITB therapy will go through 4 steps to receive therapy:1
A preimplant screening trial, which consists of a lumbar puncture and administration of Lioresal® Intrathecal (see Screening Trial)
Surgery to implant the catheter and pump
Titration of ITB (see Dosing and Administration)
Long-term maintenance of therapy (see Long-term Dosing)
Learn more about treating severe spasticity with ITB Therapy.
While some practitioners use an algorithm characterized by conservative management and sequential use of therapy, experts advocate that a sequential approach is not recommended. ITB therapy should not be a last resort.2
The most frequent drug adverse events vary by indication but include: hypotonia (34.7%), somnolence (20.9%), headache (10.7%), convulsion (10.0%), dizziness (8.0%), urinary retention (8.0%), nausea (7.3%), and paresthesia (6.7%). Dosing and programming errors may result in clinically significant overdose or withdrawal. Acute massive overdose may result in coma and may be life threatening. Abrupt discontinuation of intrathecal baclofen, regardless of the cause, has resulted in sequalae that include high fever, altered mental status, exaggerated rebound spasticity, and muscle rigidity, that in rare causes has advanced to rhabdomyolysis, multiple organ-system failure and death.3
Francisco GE, Saulino M. Chapter 19: Intrathecal baclofen therapy. In: Brashear A., Ed. Spasticity. Diagnosis and Management. 2nd ed. Demos Medical Publishing, LLC. 2016.
Saulino M, Ivanhoe CB, McGuire JR, et al. Best practices for intrathecal baclofen therapy: patient selection. Neuromodulation. 2016;19(6):607-615.
Lioresal® Intrathecal (baclofen injection) [prescribing information]. Amneal Pharmaceuticals LLC, Bridgewater, New Jersey; January 2022.