Spasticity is common after stroke, occurring in about 40% of stroke victims, with at least 30% of these patients experiencing severe spasticity.1-3
Spasticity can arise as early as a few weeks to as long as a year after a stroke occurs.1,2
In a study of stroke admissions at one rehabilitation hospital, 70% of patients had spastic hypertonia during their admission for stroke, and 50% had clinically significant spasticity that required treatment.3
Between 3 and 12 months after a stroke, spasticity occurs in an estimated 17% to 43% of stroke survivors.2 This delayed onset of spasticity can be problematic for some stroke victims, as rehabilitation may have already been completed 6 months after their stroke occurred.4
Because spasticity can occur at any time after a stroke, patients should be evaluated periodically for signs of spasticity—even a year or more after their stroke.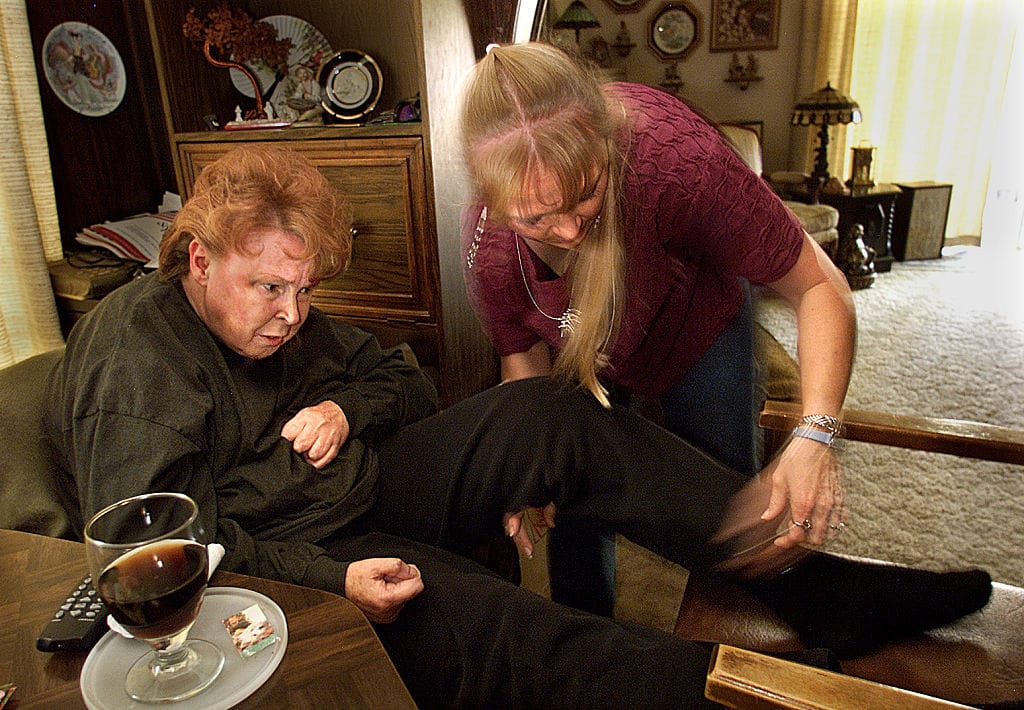 Progression of Stroke Victims5,6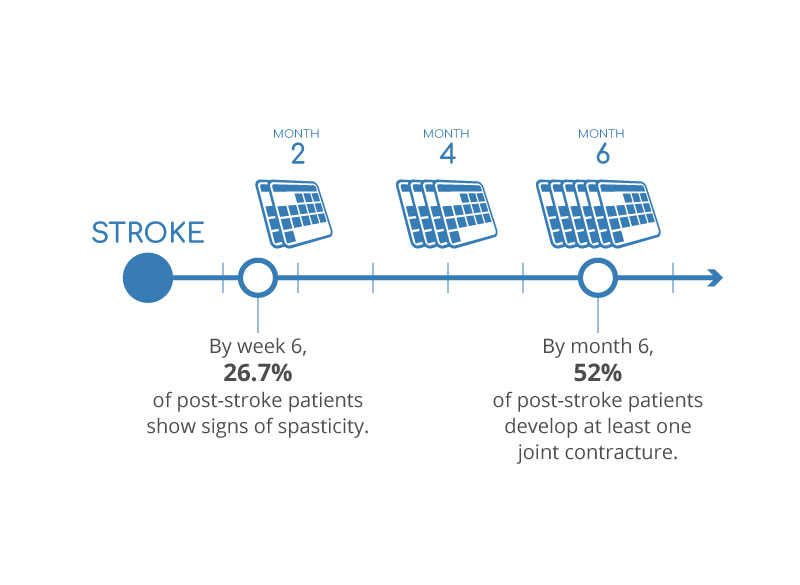 Recognize the Signs of Spasticity in Stroke Victims
The most frequently observed signs of spasticity after stroke are:
Shoulder adduction, and elbow and wrist flexion
Hip adduction, knee extension, and ankle plantar flexion
Certain factors may be predictors of spasticity after stroke, including:2
Stroke lesion in the brain stem
Hemorrhagic stroke
Younger age
Severe paresis and hemihypesthesia at stroke onset
Spasticity in stroke victims is associated with greater motor impairments, and has a negative impact on functional capabilities.3 It can also interfere with personal hygiene, dressing, and mobility, lead to urinary incontinence, limit sexual intimacy, and affect an individual's self-image and self-esteem.7 Some stroke patients may use spasticity for ambulation, allowing them to stand or walk, and treatment may worsen their mobility and disable them without proper goals for improving muscle strength.7 Treatment for severe spasticity with ITB Therapy℠ with Lioresal® Intrathecal may be a good option with proper goals and management, as studies have shown that ITB therapy can improve speed and quality of ambulation in stroke.7
Thibaut A, Chatelle C, Ziegler E, et al. Spasticity after stroke: physiology, assessment and treatment. Brain Inj. 2013;27(10):1093-1105.
Francisco GE, McGuire JR. Poststroke spasticity management. Stroke. 2012;43(11):3132-3136.
McGuire JR. Chapter 2: Epidemiology of spasticity in the adult and child. In: Brashear A, Elovic E, eds. Spasticity: Diagnosis and Management. 2nd ed. New York, NY: Demos Medical, 2016.
Post-stroke rehabilitation. National Institute of Neurological Disorders and Stroke (NINDS) website. https://stroke.nih.gov/materials/rehabilitation.htm. Accessed December 14, 2016.
Kwah LK, Harvey LA, Diong JH, et al. Half of the adults who present to hospital with stroke develop at least one contracture within six months: an observational study. J Physiother. 2012;58(1):41-47.
Wissel Schelosky LD, Scott J, et al. Early development of spasticity following stroke: a prospective, observational trial. J, Neurol. 2010;257(7):1067-1072.
Ward AB, Ramamurthy PH. Chapter 25: Poststroke spasticity management with botulinum toxins and intrathecal baclofen. In: Brashear A, Elovic E, eds. Spasticity: Diagnosis and Management. 2nd ed. New York, NY: Demos Medical, 2016.