Flexible, Individualized Dosing
For long-term management of severe spasticity, calculated doses of Lioresal® Intrathecal (baclofen injection) are delivered to the cerebral spinal fluid (CSF) through a catheter by the SychroMed® II infusion pump, which is surgically implanted under the skin of the abdomen.1
An optimal, individualized dose of Lioresal® Intrathecal should be determined by incrementally increasing the dose until the appropriate dose is found. Increases can be made as often as every 24 hours.1
The ultimate goal of this personalized approach is to maintain muscle tone as close to normal as possible and to minimize the frequency and severity of spasms to the extent possible without inducing intolerable side effects.1
The dose of Lioresal® Intrathecal may need further fine-tuning over the first few months of therapy as the patient adjusts to changes in lifestyle due to lessened spasticity.1
Lioresal® Intrathecal, when delivered through Medtronic's programmable SynchroMed® II pump, allows multiple dosage modes that deliver medication when patients need it most. One example is the simple continuous mode that provides a constant level of Lioresal® Intrathecal throughout the night and day.2 For most patients, their severe spasticity is well-managed with this dosing approach2; however, some patients have particularly painful spasms at night or when active during the day. In these cases, the pump system can be programmed for increased dosage when it is needed most.2 In both dosage modes, the SynchroMed® II pump provides a steady state of medication that just is not feasible with oral baclofen.3 When Lioresal® Intrathecal levels do not fluctuate over a long period of time, a more consistent reduction in muscle tone can be achieved.3
An attempt should be made to discontinue concomitant oral antispasticity medication to avoid possible overdose or adverse drug interactions, either prior to screening or following implant and initiation of chronic Lioresal® Intrathecal infusion. Following pump implantation, and for each adjustment of the dosing rate of the pump and/or concentration of Lioresal® Intrathecal, the patient should be monitored closely until it is certain the patient's response to the infusion is acceptable and reasonably stable.
Dosage Options with Lioresal® Intrathecal2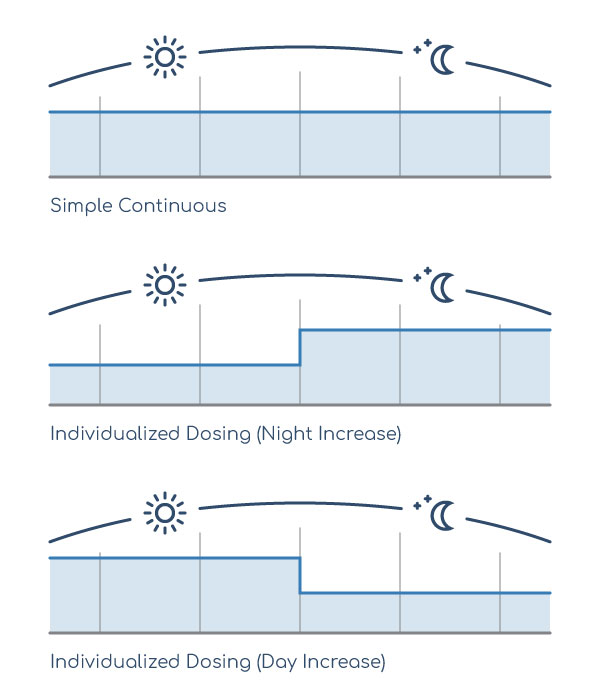 Lioresal® Intrathecal (baclofen injection) for intrathecal injection [prescribing information]. Saol Therapeutics, Roswell, Georgia; January 2019.
Boster A, Adair R, Gooch J, et al. Best practices for intrathecal baclofen therapy: dosing and long-term management. Neuromodulation. 2016;19(6):623-631.
McCormick ZL, Chu SK, Binler D, et al. Intrathecal versus oral baclofen: a matched cohort study of spasticity, pain, sleep, fatigue, and quality of life. PM R. 2016;8(6):553-562.