Ampules and Concentrations
Lioresal® Intrathecal is supplied in single-use ampules:1
10 mg/20 mL (500 mcg/mL; 1 ampule: NDC 70121-2501-01; 2 ampules: NDC 70121-2504-02)
10 mg/5 mL (2000 mcg/mL; NDC 70121-2502-02)
40 mg/20 mL (2000 mcg/mL; 1 ampule: NDC 70121-2503-01; 2 ampules: NDC 70121-2505-02)
Conforms to within +/−5% of package-listed concentration2
The only intrathecal baclofen to undergo dynamic drug testing in catheters representative of the entire portfolio of those approved for use with the Medtronic SynchroMed® II pump
For the screening dose, there is 1 ampule containing 0.05 mg/1 mL (50 mcg/mL; NDC 70121-2496-05). The additional concentrations for pump reservoir refill allow for individualized dosing.1
Lioresal® Intrathecal does not require refrigeration.1
For patients who require concentrations other than 500 mcg/mL or 2000 mcg/mL, Lioresal® Intrathecal must be diluted.1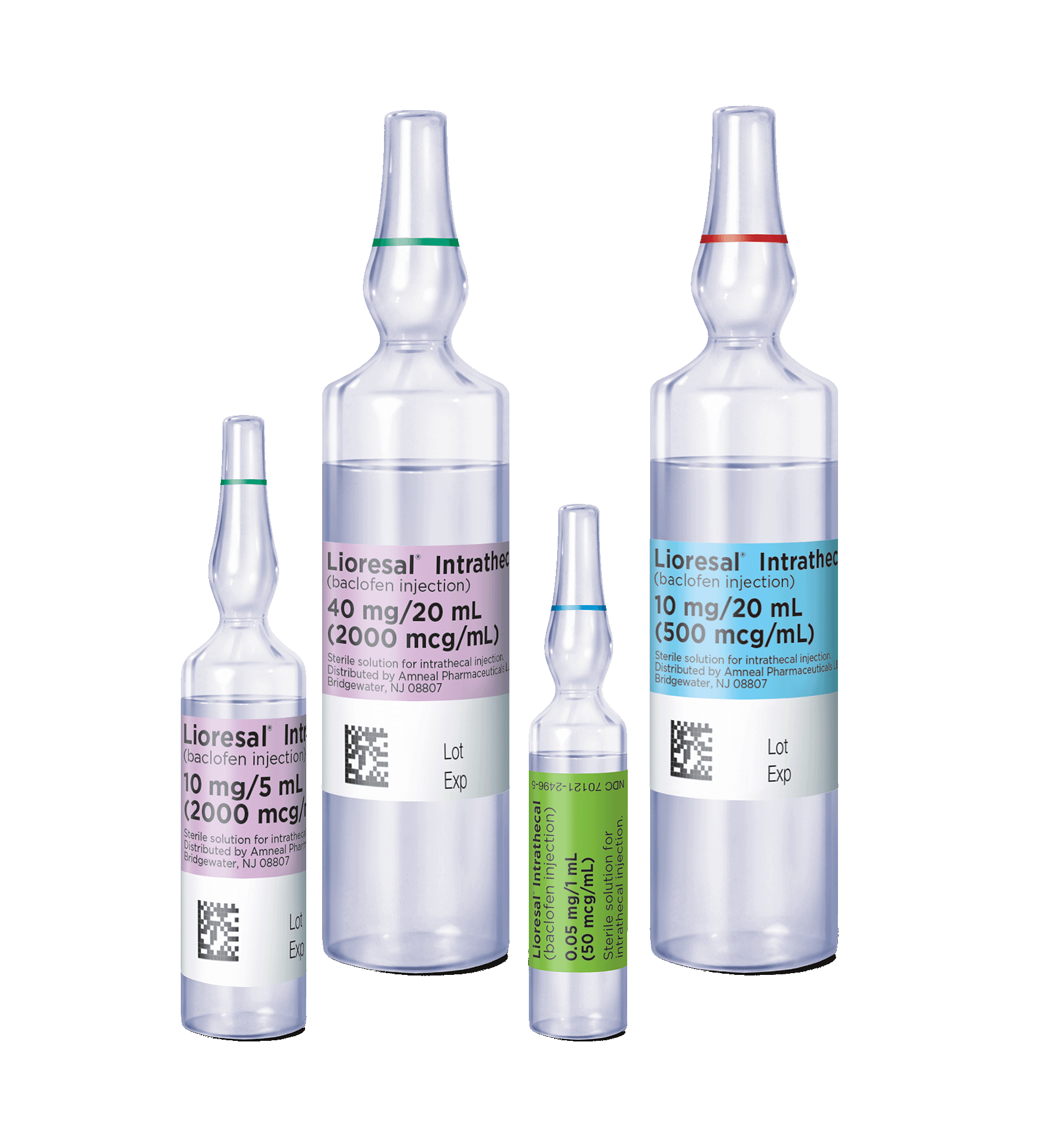 You can count on Lioresal®* for 100% sterility from start through finish3
*An intuitively redesigned kit that mirrors your clinical flow.
Lioresal® Intrathecal is supplied in single-use ampules:
Customized molding allows components to be securely placed within trays to ensure consistency and predictability from refill to refill
Improved and consistent sequencing/layering of components based on user preference
Quick reference guide
New external sterile drape
Placed sterile ampule in the Drug Prep Tray (no longer in a separate box)
Disposable ampule opener
Sharps holder to minimize inadvertent sticks
Enhanced box and ampule labeling with pronounced colors to identify drug concentrations
Walleted purple nitrile powder-free gloves
Improved drape (smaller footprint and larger opening to accommodate pump)
Round bandage
Increased number of gauze pads to 8 per kit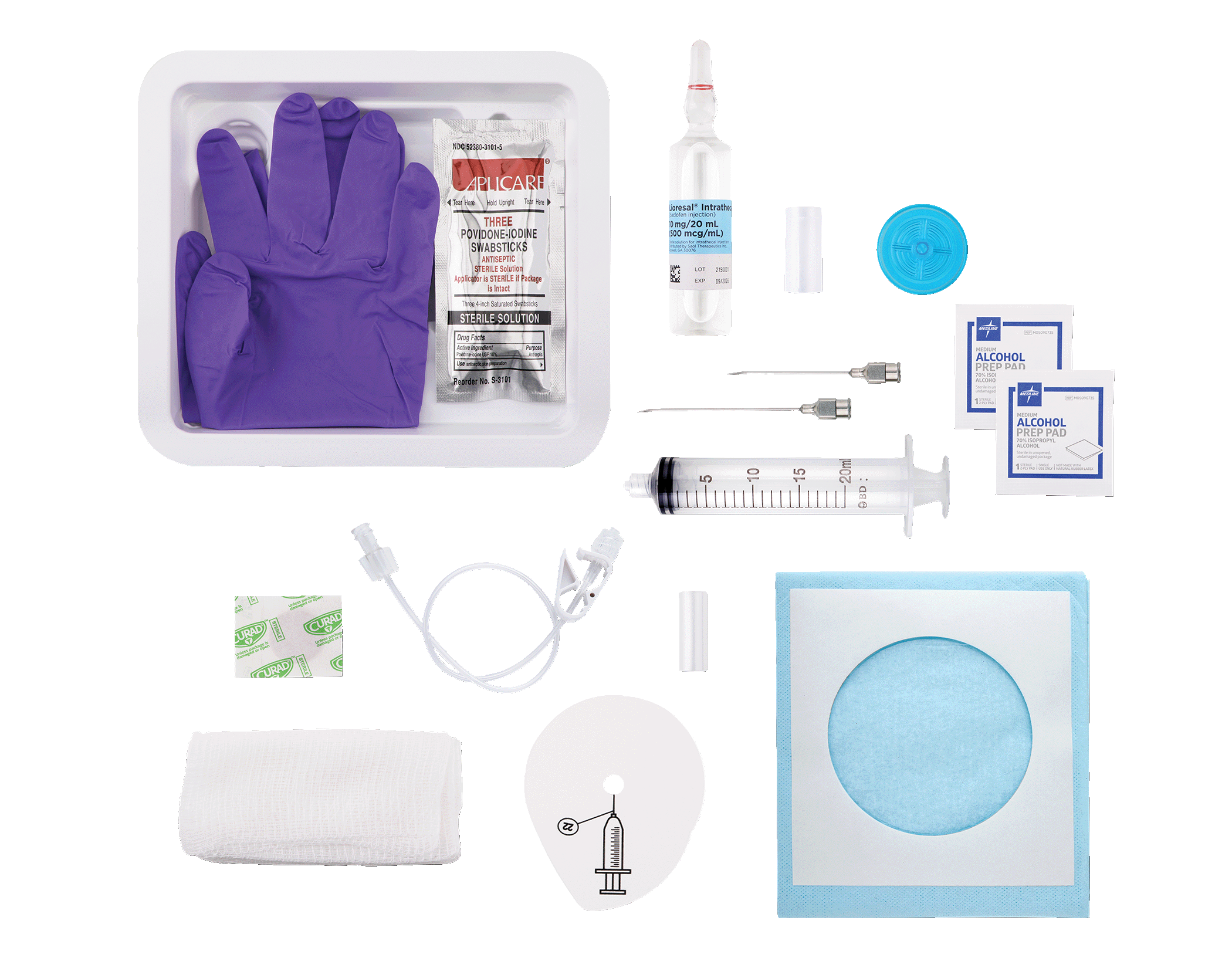 Why +/-5% Matters
"For patients receiving ITB, viability in either stability or concentration could make titrating to an effective dose difficult and could result in unintended life-threatening withdrawal or overdose." —Moberg-Wolffe E. Arch Phys Med Rehabil, 2009
The Ampule Difference
Lioresal® Intrathecal has long been provided in glass ampules, which offer quality and allow for maintenance of sterility. They have been a leading choice of drug manufacturers for well over 100 years, ensuring the highest quality product is delivered to the patient.
Provide improved opportunities for aseptic technique and maintenance of sterile field
Minimize drug contact with constituents
Minimize risk from leachables and extractables
Minimize the potential introduction of particulate matter due to puncture-free design
Refilling the Medtronic SynchroMed® II pump with Lioresal® Intrathecal
With Lioresal® Intrathecal, the pump system needs to be periodically refilled to provide long-term therapy and prevent withdrawal.1
Lioresal® Intrathecal Refill Kit
Reservoir refilling must be performed by fully trained and qualified personnel following the directions provided by the pump manufacturer. Extreme caution must be used when filling an FDA-approved implantable pump, following strict aseptic technique and ensuring refill directly into the reservoir and not the catheter access port.1
Designed with the safety of both provider and patient in mind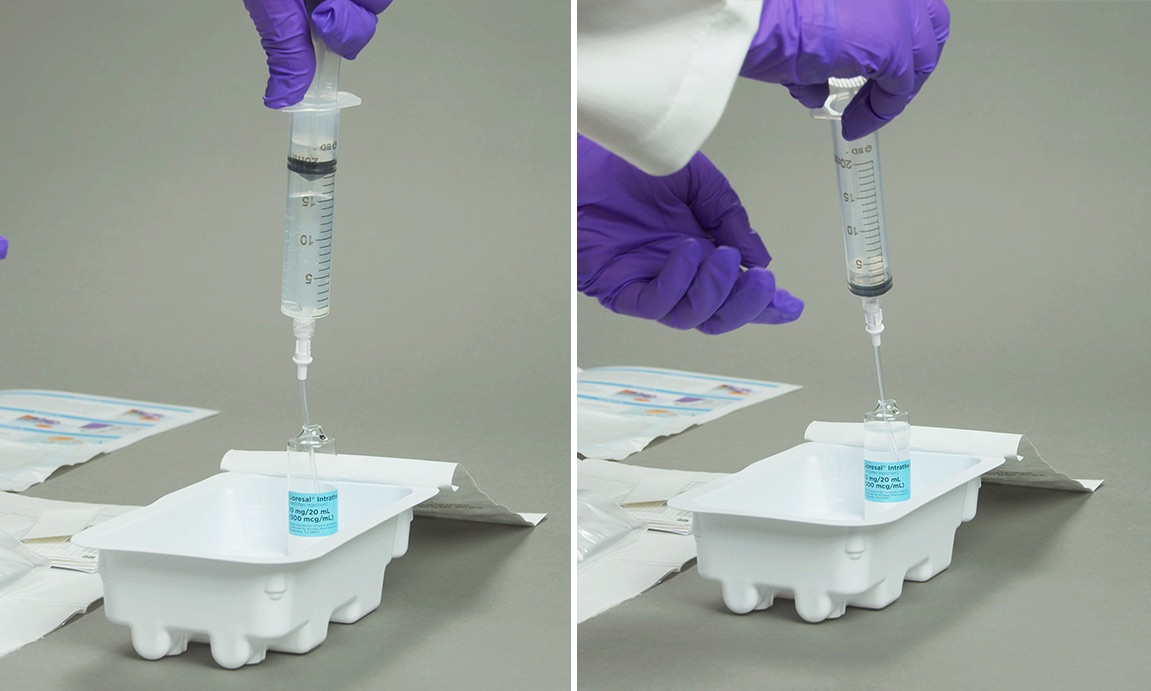 Importantly, supplying Lioresal® Intrathecal in glass ampules can help providers maintain a sterile field. The use of the FILTER STRAW® by Braun with the Lioresal® Intrathecal ampule provides additional distance to help maintain sterility.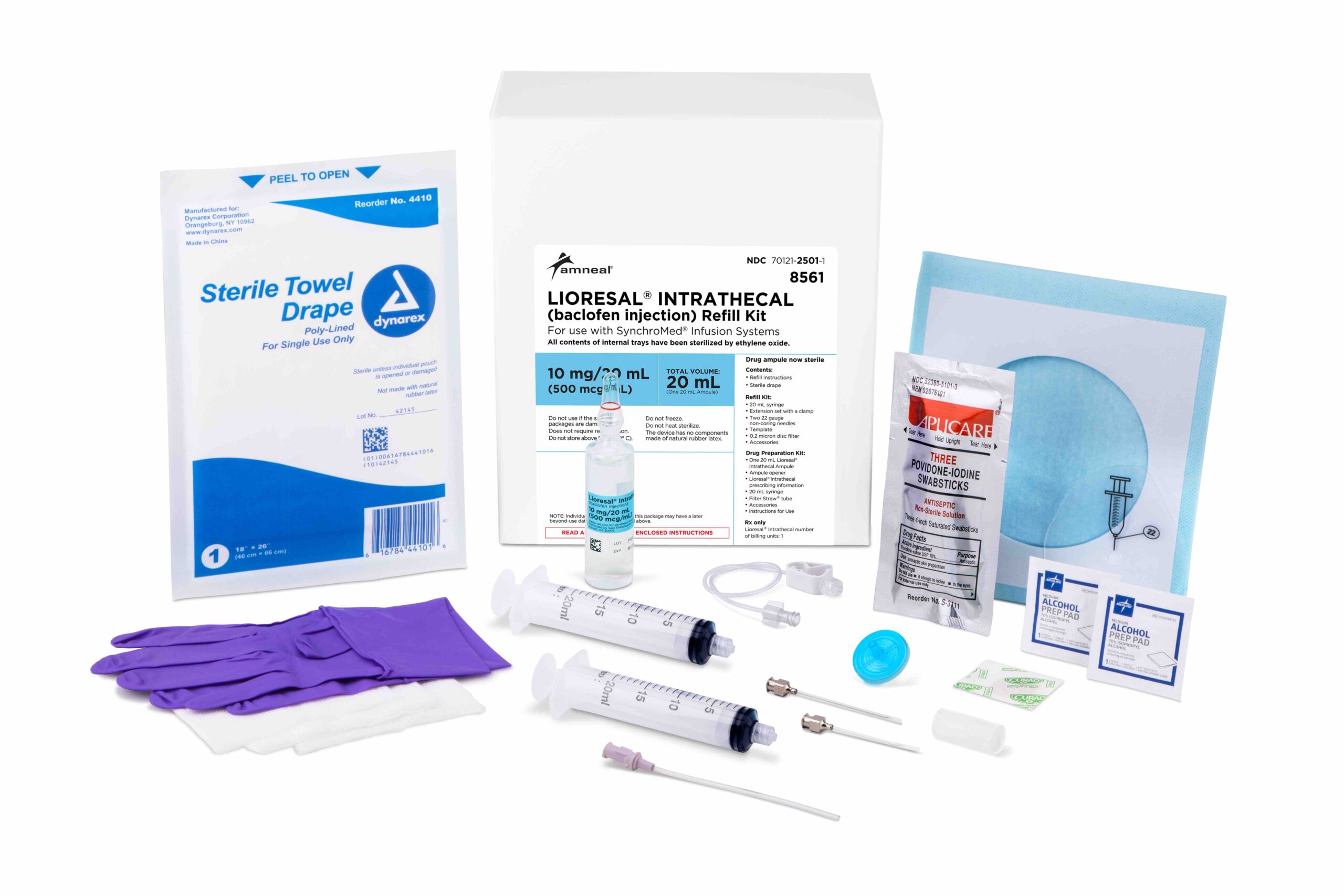 The SynchroMed® II pump system is designed to allow for refills every few weeks or months, depending on the needs of the patient based on Lioresal® Intrathecal concentration and daily dose. Lioresal® Intrathecal is stable in the pump reservoir for up to 180 days.5 The pump has an alarm that will sound when the reservoir of Lioresal® is running low.4,5 Patients and caregivers should be made aware of what the pump alarms sound like, and if they hear an alarm, they should contact the appropriate healthcare provider immediately.1,4
Reservoir refills are sterile, procedures that need to be scheduled, and it is important that patients keep their scheduled refill appointments. It is critically important that patients adhere to their refill schedule to prevent abrupt withdrawal syndrome.1,4,5
Changes in Lioresal® Intrathecal concentrations are often made during pump refills. Experts suggest drug concentrations be increased to lengthen the time between pump refills. Increasing the concentration of baclofen will decrease the volume of drug delivered, which occurs at a decreased flow rate. If the patient does not respond as well to the higher concentration, experts recommend increasing the total daily dose until the desired therapeutic effect is achieved.4
To change drug concentrations, a bridge bolus must be performed so that the old drug concentration is infused at a rate necessary to clear the pump tubing and catheter of the residual drug in the previous concentration.4
Following pump implantation, and for each adjustment of the dosing rate of the pump and/or concentration of Lioresal® Intrathecal, the patient should be monitored closely until it is certain the patient's response to the infusion is acceptable and reasonably stable.
Lioresal® Intrathecal (baclofen injection) for intrathecal injection [prescribing information]. Amneal Pharmaceuticals LLC, Bridgewater, Jersey; January 2022
Moberg-Wolff E. Potential clinical impact of compounded versus noncompounded intrathecal baclofen. Arch Phys Med Rehabil. 2009;90(11):1815-1820.
Saol Therapeutics Inc. Data on file: NDA 020075 Lioresal; 3.2.P.8 Stability and 3.2.P.8.2 Post-Approval Stability Protocol and Stability Commitment.
Boster AL, Adair RL, Gooch JL, et al. Best practices for intrathecal baclofen therapy: dosing and long-term management. Neuromodulation. 2016;19(6):623-631.
Francisco GE, Saulino M. Chapter 19: Intrathecal baclofen for spasticity. In: Brashear A, Elovic E, eds. Spasticity: Diagnosis and Management. 2nd ed. New York, NY: Demos Medical Publishing, LLC, 2016.