A screening trial with Lioresal® Intrathecal (baclofen injection) first involves discussing goals and expected outcomes with your doctor. Goals should be realistic and individualized to your specific condition and situation. Goals may vary depending on the severity of your spasticity.1
The screening test is done in an inpatient or outpatient setting while under medical supervision. On test day, your doctor or physical/occupational therapist will assess your spasticity and function with a physical examination and take a full history. This serves as a "baseline" to measure your changes in spasticity during the trial. Risks and possible side effects should also be discussed.1
After a dose of Lioresal® Intrathecal is delivered into your spinal fluid via a procedure called a lumbar puncture, the effect should be noticeable within 30 to 60 minutes, and usually peaks around 4 hours. During this time, your changes in spasticity and function will be monitored periodically. The effects of Lioresal® Intrathecal typically wear off in 8 hours, your spasticity will return, and you are typically able to go home the same day.1-3
In the event that the initial dose of Lioresal® Intrathecal does not affect your spasticity, another trial can be conducted 24 hours later using a higher dose.1
The screening trial is required before receiving an implanted pump, but the opposite is not true -- a screening trial does not obligate you to receive an implanted pump.
Typical Flow of a Screening Test Process1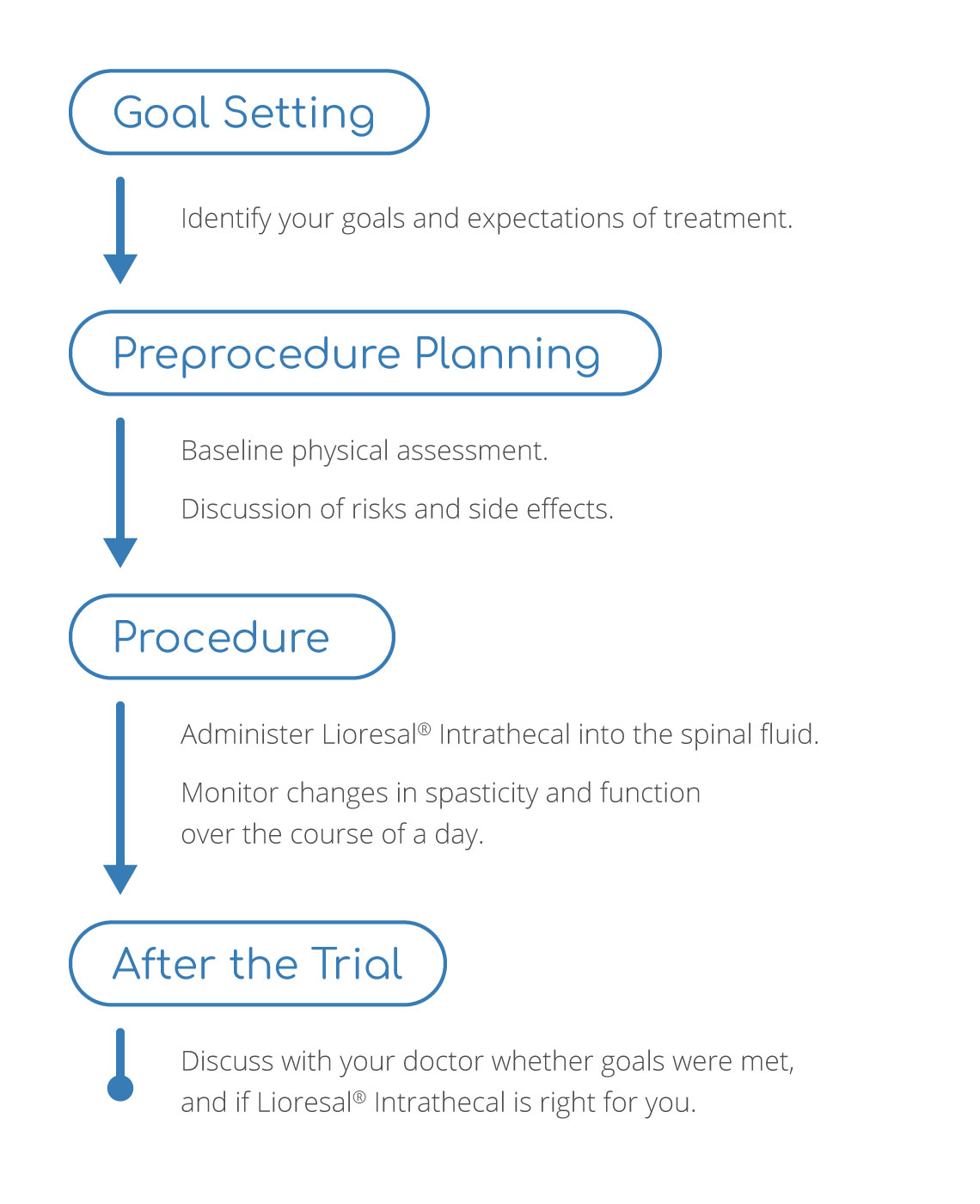 You will discuss with your doctor if your goals were met during the trial and if your condition is appropriate for further treatment with Lioresal® Intrathecal.1
Boster AL, Bennett SE, Bilsky GS, et al. Best practices for intrathecal baclofen therapy: screening test. Neuromodulation. 2016;19(6):616-622.
Lioresal® Intrathecal (baclofen injection) [prescribing information]. Roswell, GA: Saol Therapeutics; September 2016.
Intrathecal baclofen (ITB) test dose. Seattle Children's website. www.seattlechildrens.org/pdf/PE341.pdf. Updated March 2016. Accessed December 15, 2016.