For long-term management of severe spasticity with Lioresal® Intrathecal, a pump is surgically implanted under the skin of the abdomen to deliver calculated doses of Lioresal® Intrathecal to the spinal fluid through a catheter.
This allows for a steady state of baclofen to help manage severe spasticity consistently throughout the day or whenever it is needed most.1,2
This steady state of medication to manage spasticity is not possible with other traditional treatments such as botulinum toxin and oral baclofen. The effect of botulinum toxin's effect on spasticity typically lasts 3-5 months before it gradually starts to wear off, whereas oral baclofen needs to be taken multiple times a day which leads to peaks and valleys in the amounts of the medication in your body.
Lioresal® Intrathecal allows a steady, fine-tuned dosage that is personalized to you and your treatment goals. Furthermore, since Lioresal® Intrathecal is injected directly into the spinal fluid, far less baclofen is needed to produce a therapeutic effect compared to oral baclofen.1-4
Refilling the SynchroMed® II Infusion System
With Lioresal® Intrathecal, the pump system needs to be periodically refilled to provide long-term therapy and prevent withdrawal. Refills are done by your physician or one of their staff (often a Nurse Practitioner, Physician Assistant or a nurse) at their office. It is very important that you not miss refill appointments. If you plan to travel let your doctor know so that your refill can be scheduled so that you don't run out of medication. If you are hospitalized for any reason near the time of your refill, you or your caregiver should let your doctor know before the refill date so that arrangements can be made to refill your pump. Not all hospitals have healthcare practitioners that can refill pumps, so let your doctor know as soon as possible if it is near your refill date.1
Your pump system also has an alarm that will sound when your reservoir of Lioresal® Intrathecal is running low. You should be aware of what your pump alarms sounds like, and if you hear an alarm, contact your doctor immediately.1,2
Delivery of Lioresal® Intrathecal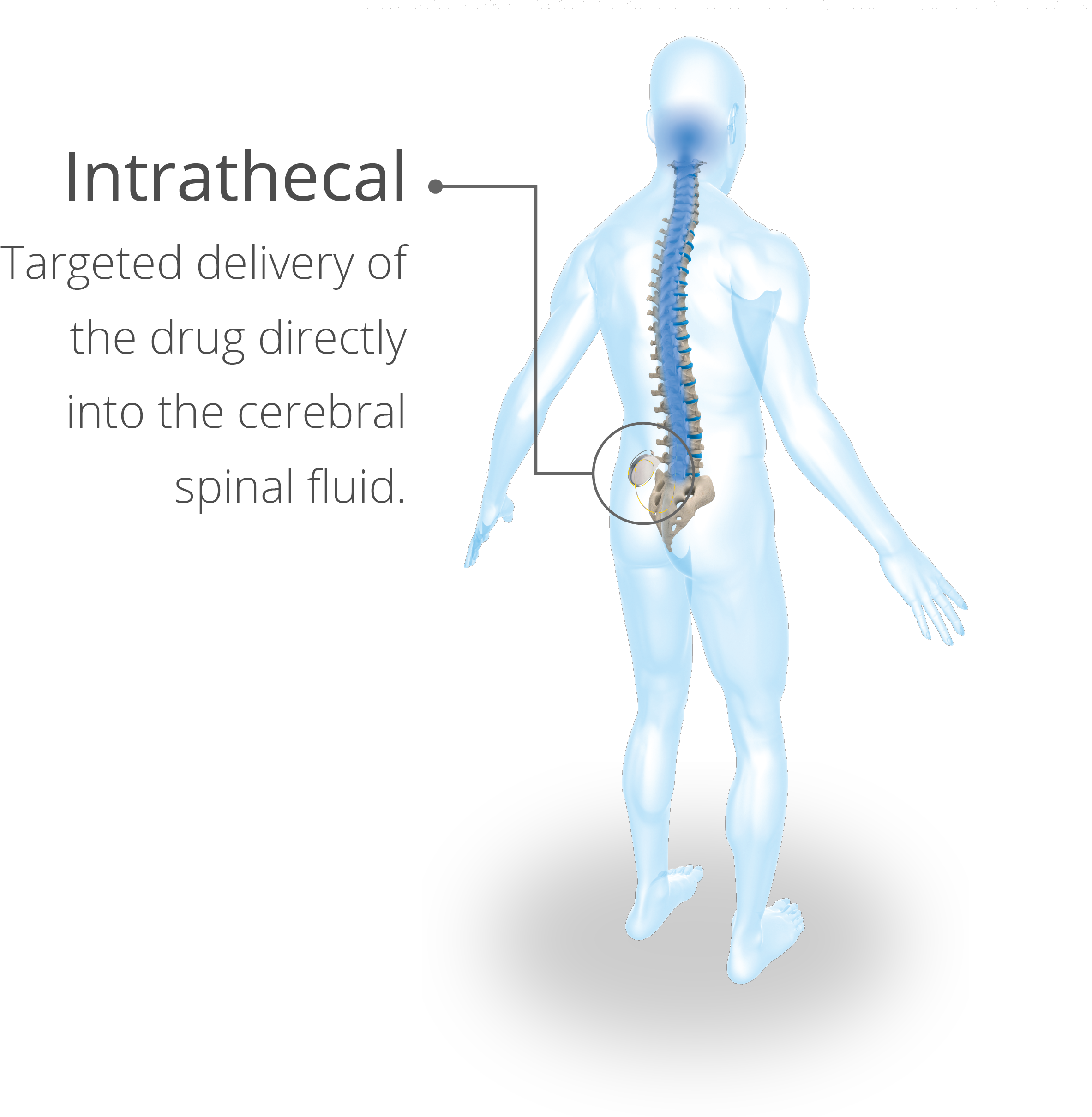 Lioresal® Intrathecal (baclofen injection) [prescribing information]. Roswell, GA: Saol Therapeutics; September 2016.
Boster A, Adair R, Gooch J, et al. Best practices for intrathecal baclofen therapy: dosing and long-term management. Neuromodulation. 2016;19(6):623-631.
Dressler D, Adib Saberi F. Botulinum toxin: mechanisms of action. Eur Neurol.2005;53(1):3-9.
Saulino M, Ivanhoe CB, McGuire JR, et al. Best Practices for intrathecal baclofen therapy: patient selection. Neuromodulation. 2016;19(6):607-615.