Is Lioresal® Intrathecal Right for You?
If you suffer from severe spasticity that interferes with your comfort, mobility, activities of daily living, or positioning, you could consider utilizing ITB TherapySM with Lioresal® Intrathecal. Lioresal® Intrathecal provides another option for treating severe spasticity beyond what you may have tried in the past. For many patients, treatment with Lioresal® Intrathecal continues to be their main choice, and 82% of patients said they would repeat the decision to receive ITB TherapySM with Lioresal® Intrathecal. And 87% of physicians rated their overall satisfaction for each patient's outcomes as good or very good in one clinical study, despite the occurrence of complications.1-3
Before treatment with Lioresal® Intrathecal or implantation of a SynchroMed® II pump system can be considered, a patient must undergo a screening trial. A screening trial consists of a "test drive" of Lioresal® Intrathecal injected into your spinal fluid under medical supervision to see how treatment with the medication affects your spasticity. This screening trial can offer a glimpse of life without spasticity, and may uncover your underlying function to know whether it can be improved. Only after a screening trial will a doctor consider you to be a candidate for ITB TherapySM with Lioresal® Intrathecal.4
After implantation of SynchroMed® II, Lioresal® Intrathecal may decrease your muscle tone and uncover muscle weakness that was not apparent before treatment. For this reason, rehabilitation may be used alongside Lioresal® Intrathecal treatment to retrain and strengthen the muscles that were affected by spasticity.5
If your spasticity is due to spinal cord origin and is not controlled with medication taken by mouth, or you have side effects that are not acceptable from oral baclofen taken to treat your spasticity, you may be a candidate for therapy with Lioresal® Intrathecal. If you have had a brain injury due to trauma, you should wait for one year after your injury to be considered for ITB TherapySM with Lioresal® Intrathecal.4
Please note that if you are allergic to baclofen, you should not use Lioresal® Intrathecal. If you have an active infection, you should not have a screening test or implant until the infection has been treated. You should not receive ITB TherapySM if your body size is too small to hold the implantable pump.4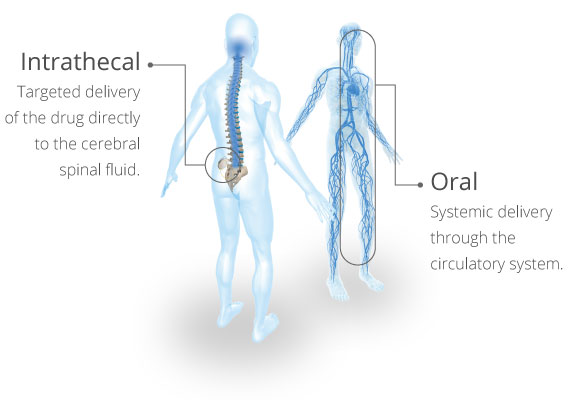 Have you previously tried
oral baclofen?
Many patients who currently use Lioresal® Intrathecal have previously used oral baclofen unsuccessfully or experienced intolerable side effects when taking oral baclofen. Baclofen tablets taken orally and Lioresal® Intrathecal both deliver the same drug—baclofen—but it is administered into your system differently. By administering baclofen directly into the spinal fluid, Lioresal® Intrathecal can offer a more consistent reduction in spasticity, often without the side effect of drowsiness that is associated with oral baclofen.2,4
Your doctor can determine if Lioresal® Intrathecal may be right for you. Ask today.
Krach L, Nettleton A, Klempka B. Satisfaction of individuals treated long-term with continuous infusion of intrathecal baclofen by implanted programmable pump. Pediatr Rehabil. 2006;9(3):210-218.
Saulino M, Ivanhoe CB, McGuire JR, et al. Best Practices for intrathecal baclofen therapy: patient selection. Neuromodulation. 2016;19(6):607-615.
Guillaume D, Van Havenbergh A, Vloeberghs M, Vidal J, Roeste G. A clinical study of intrathecal baclofen using a programmable pump for intractable spasticity. Arch Phys Med Rehabil. 2005;86:2165-2171.
Lioresal® Intrathecal (baclofen injection) [prescribing information]. Roswell, GA: Saol Therapeutics; September 2016.
Boster AL, Bennett SE, Bilsky GS, et al. Best practices for intrathecal baclofen therapy: screening test. Neuromodulation. 2016;19(6):616-622.